Windows 10 May 2020 Update was released on May 27 by Microsoft,
but users are still receiving a message that the upgrade is
blocked due to a system setting, while others report problems
after installing the new feature update.
Microsoft says there is a compatibility issue with Windows 10
version 2004 and Windows Security settings, and if you're
affected, you will get a message that Microsoft cannot upgrade
your PC until you turn off a particular setting in Windows
Security.
The security feature in the question is "Memory Integrity",
which is designed to protect your computer from the injection
of malicious code in the kernel-mode processes. In a new update
to the documentation, Microsoft said it will not remove this
particular upgrade block due to "security reasons".
"After investigation, there is no secure way to resolve this
issue within Windows and will require updated drivers,"
Microsoft noted on
July 23, 2020. If you've enabled Memory Integrity feature in
Windows 10, here's how you can turn it off and remove the
upgrade block:
Open Settings > Update & Security.
Click on 'Windows Security' in the left-side panel.
In Windows Security, click on 'Device Security'.
Look for Core isolation details option and click on the
link.
Under the Memory Integrity, click on the slider and turn it
off.
Reboot your PC.
If you're unable to turn off Memory Integrity protection,
Microsoft says there's another workaround, and that's manually
updating your graphics driver by downloading the package from
your manufacturer's website.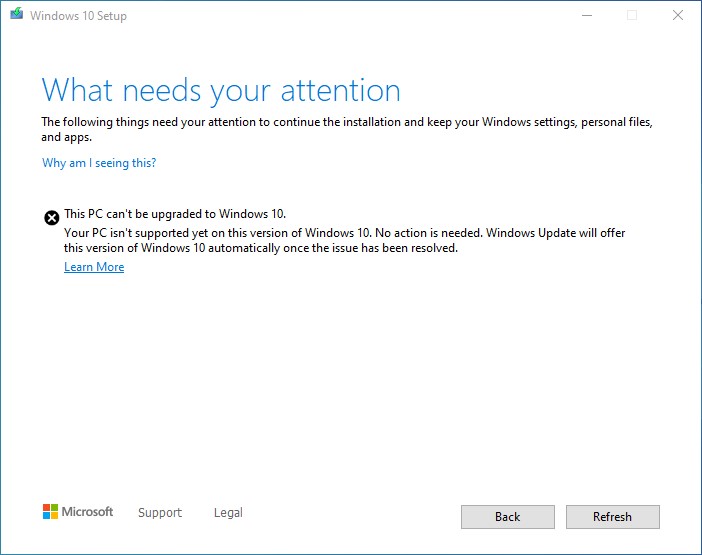 If the feature is turned off and May 2020 Update remains
blocked, you may also want to make sure that you've updated
your drivers for graphics, Wi-Fi, Bluetooth, and Synaptics
hardware. When the drivers are not fully up to date, the update
would not show up.
Furthermore, if your drivers are up to date but the device is
still blocked from installing the May 2020 Update, it's likely
due to other 'safeguards' or compatibility hold. There are at
least four known bugs with the update that are either under
investigation or being patched in the preview build.
Microsoft says May 2020 Update is currently blocked for some
users due to following lingering bugs:
Realtek Bluetooth drivers.
aksfridge.sys or aksdf.sys blocks the update.
Dragging with mouse in apps might cause trouble for users
due to IME.
Conexant ISST audio drivers.
Conexant audio drivers.
Our advice is to wait until Windows 10 May 2020 Update gets
pushed to your device. This is the best way to avoid issues
between your hardware and the update.
Microsoft is also
planning to expand the rollout of the update in the second
or third week of August.