Windows 11 Build 22000.120 is now available for users in the
Dev and Beta Channels of the Windows Insider program. This is
the fifth cumulative update for Windows 11 RTM Build 22000 and
it comes with several quality enhancements, but there are no
new features or significant improvements.
If you check for updates today, a new patch "Cumulative Update
for Windows 11 (10.0.22000.120) (KB5005188)" will appear on the
screen. Additionally, a new Defender security update will also
download and install automatically when you tap on the check
for updates button.
Windows 11 KB5005188 comes with improvements for desktop users.
Microsoft has updated the File Explorer's right-click (context
menus) with a compact interface for mouse users. Windows 11's
right-click context menu feels way too big, but Microsoft has
finally addressed it with today's release.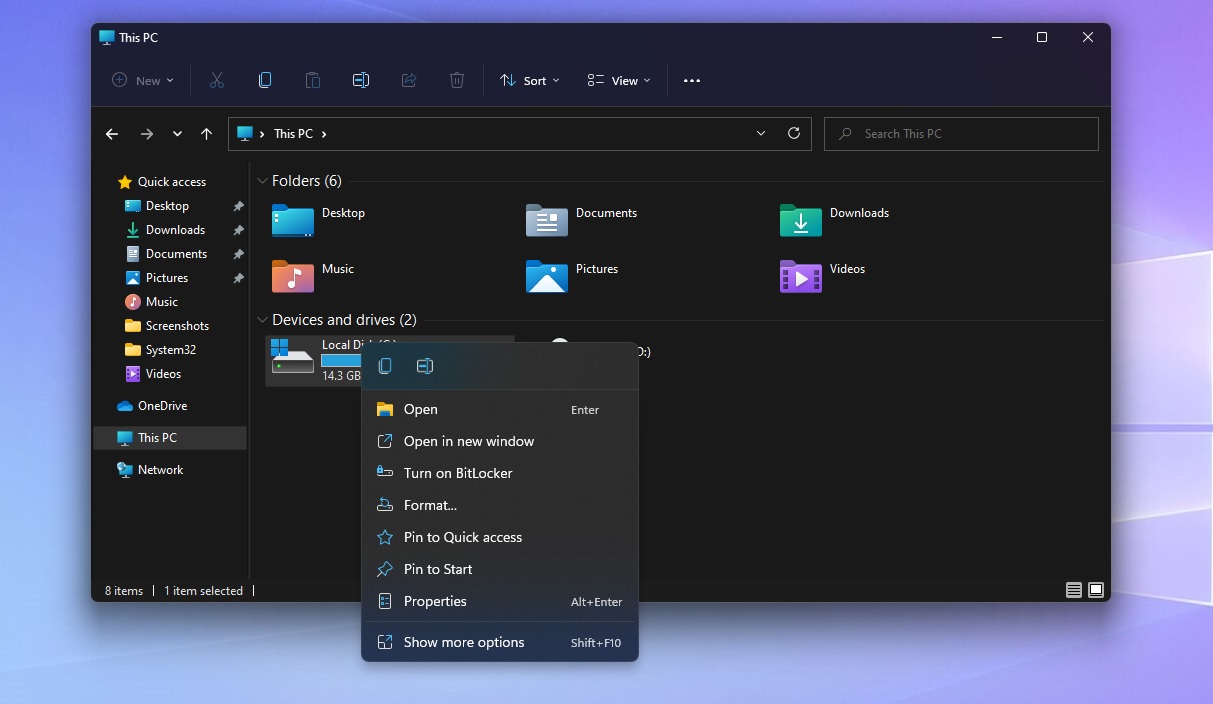 Additionally, Microsoft is improving the "New" button in the
File Explorer's command by integrating a dropdown menu. This
will allow users to view all options in a list instead of a
nested list. The company has also resolved an issue resulting
in sluggishness across File Explorer after prolonged usage of
the context menu.
New improvements in Windows 11 Build 22000.120 (KB5005188)

As you're probably aware, Windows 11 comes with a new widgets
panel which is essentially a group of small apps. These widgets
are accessible directly from the taskbar and they provide users
with weather updates, sports results, traffic updates, and
more.
Build 22000.120 introduces a new Family widget for Windows 11
users. The new family widget is powered by your Microsoft
account and it is available in all languages and regions. Once
pinned to the widgets menu, it can help you see recent activity
from the Microsoft family group.
Microsoft is rolling out notification badging for the Chat
icon on the Taskbar. This will allow users to view the unread
alerts directly from the taskbar. Microsoft has also made
improvements to the close button in the taskbar preview
windows.
The "Identify" button is now available in Display Settings to
help users arrange their multiple monitor setup).
Here's a list of other improvements in Build 22000.120
(KB5005188):
Microsoft has improved the spacing and thumbnail sizes
within ALT + Tab, Task View and snap assist.
File Explorer will now show an updated scroll bar when in
dark mode.
Microsoft has addressed a memory leak bug that was
impacting File Explorer.
File Explorer's command bar has been updated to reduce
resources usage.
Microsoft has fixed explorer.exe crashes.
The context menu will not flicker anymore or get clipped on
the side.
Scrollbar issues have been resolved.
Radio buttons in File Explorer now appear highlighted when
they're in the selected state.
Microsoft has patched an issue affecting the file operation
dialogs.
How to install Windows 11 KB5005188

To install Windows 11 KB5005188, use
these steps:
Open Windows Settings > Windows Update.
Click on Check for updates button.

The patch will start downloading automatically.
Click on "Restart now" to finish the installation.
The patch will appear as long as you're part of the Dev or Beta
channel of the Windows Insider program. Of course, if you're
still on Windows 10 and you have unsupported hardware, the
update won't appear.
Microsoft Store

Microsoft Store is also getting a new update with the
following improvements:
Auto-scrolling on Spotlight
Store is getting a new (product detail page) design for
games.
Known issues in Build 22000.120

Microsoft is investigating reports of an issue that crashes the
new taskbar and Start menu on Windows 11. If you're unable to
access the taskbar or Start Menu, manually remove the
cumulative by navigating to Windows Update > Update
history > Uninstall update > Control Panel.
Other known issues include:
Windows Search does not detect the texts entered by the
user
System and Windows Terminal are not listed when
right-clicking on the Start button (WIN + X).
Taskbar flickers.
Recent searches may not appear when you hover over the
taskbar search icon.