CCleaner, one of the enormously popular free PC optimization
suites for Windows, is now being detected as Potentially
Unwanted Application (PUA) on Windows 10 after a recent update
to Windows Defender platform.
CCleaner basically allows you to optimize your system using its
scan checks for cookies, cached files, downloaded files in all
the major browsers, and it also includes a comprehensive
registry cleaner.
In a surprising move, Windows Defender Antivirus has started
flagging
CCleaner utility as Potentially Unwanted App.
Potentially Unwanted Application (PUA) protection is a feature
that allows Windows Defender Antivirus to detect and block
unwanted apps.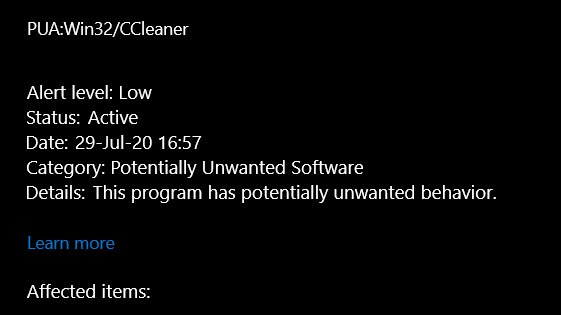 According to user reports, Windows Defender flags CCleaner as a
Potentially Unwanted Program with alert level low, but the
CCleaner is not detected as a threat to the system and users
can still manually allow the app to run on their systems.
In support documentation, Microsoft
noted that PUAs are not categorized as viruses, malware or
other types of threats, but such as apps could "adversely
affect endpoint performance or use" and offer to install other
apps that qualify as PUA.
Windows Defender also flags apps with 'poor reputation' as
potentially unwanted program due to "certain kinds of
undesirable behaviour".
Microsoft says CCleaner installer includes certain software,
such as the Google Toolbar and Avast. Bundling of software,
especially products from other providers that negatively impact
the user experience fall under the category of PUA or PUP.
CCleaner installer has been found bundling the following apps:
Google Chrome
Google Toolbar
Avast Free Antivirus
AVG Antivirus Free
It appears that only the free version of CCleaner is detected
as PUA by Windows Defender and Windows 10 will block CCleaner
until the installer itself comes with such software bundled by
default.
CCleaner is in touch with Microsoft

CCleaner has confirmed on Twitter that it's working with
Microsoft and the problem will be resolved soon.
"We're in touch with Microsoft to resolve this as soon as
possible," a representative from CCleaner noted on Twitter.
If Windows Defender has blocked CCleaner on your system and you
know that it can be trusted, you can allow the app under
Windows Security > Virus & threat protection > Threat
history.