The Microsoft Launcher Beta has gained some improvements in the
latest update including overview mode page arrangement tweaks,
but the update has also removed Windows Timeline integration.
For those unaware, Windows Timeline is a feature that allows
you to keep a track of your activities across your devices, so
you can track what apps, web pages, and documents you've been
working on over the past weeks.
Windows Timeline is optional on Windows 10 and it's also
underrated. With Timeline and Microsoft Launcher, you can see
the documents and windows that you currently have open on your
computer.
Windows Timeline was originally supposed to offer "pick up
where you left off" functionality and it was added to Microsoft
Launcher last year. Timeline integration in Microsoft Launcher
allowed users to launch web pages and documents that you were
working on in Edge or Office on your PCs, right from your
mobile device.
Earlier this week, Microsoft released Microsoft Launcher update
for those on the preview program and it "depreciates Timeline".
Microsoft is also disabling Family parental controls in the
launcher.
This version is the update that will ship to non-testers later
this year and it also comes with much-needed improvements that
might improve the overall experience.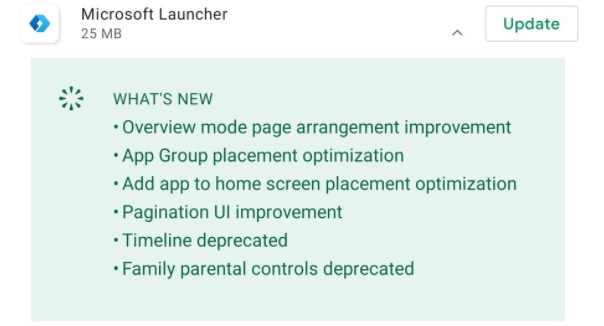 For instance, Microsoft Launcher now allows you to add apps to
the home screen without lags and crashes.
Likewise, Microsoft has also made improvements to the app group
feature. For those unaware, app group is a new feature for
Surface Duo, which also
comes pre-installed with Microsoft apps, and it basically
allows you to launch two apps on both screens at the same time.
In addition, the update comes with another change that will
improve the pagination UI.
These changes are not groundbreaking, but you will now be able
to organize your Android home screen more easily, thanks to the
bug fixes. This update is particularly useful if you have
performance issues with Microsoft Launcher on Android phones.