Windows 10 May 2019 Update (version 1903) is now being blocked
from installing on systems with certain versions of Intel Rapid
Storage Technology (RST). Microsoft says May 2019 Update on
some Intel PCs may cause stability problems and it could also
break the inbox storage driver iastora.sys.
In a new support
document that is being blocked from indexing on search
engines, Microsoft has documented a critical problem affecting
devices with Intel Rapid Storage Driver version between
15.1.0.1002 and 15.5.2.1053. The issue appears to limit to
specific Intel's drivers and other devices with RST (but
different driver version) do not seem to be having any
problems.
If you have affected driver installed, Windows 10 version 1903
won't show up on Windows Update page and upgrade block message
would appear on Update Assistant Tool.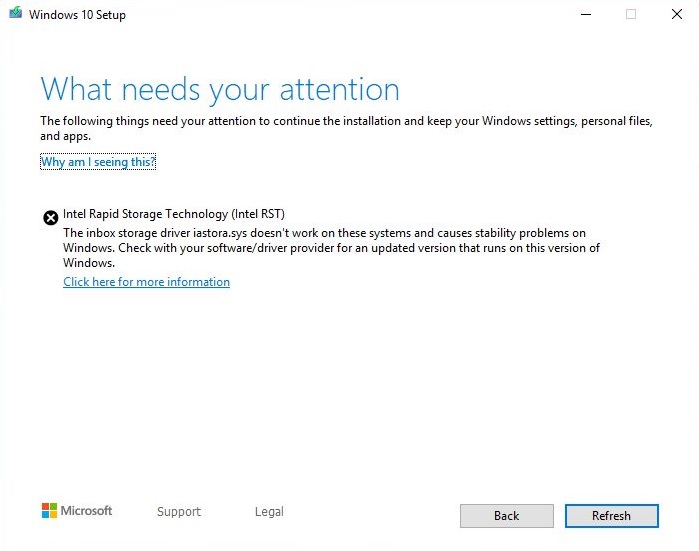 Microsoft says version 15.5.2.1054 or later is compatible with
Windows 10 May 2019 Update, but users are recommended to
install 15.9.6.1044 or newer.
"To resolve this issue, you will need to update the Intel® RST
drivers for your device to version 15.5.2.1054 or a later.
Check with your device manufacturer (OEM) to see if an updated
driver is available and install it," Microsoft noted in a
support document.
After fixing the outdated drivers, users have to restart their
computer and check for updates again.