Windows 11 began rolling out in the last week of June but as we
pointed out in our previous articles, Windows 11 is a
work-in-progress. Microsoft is still trying to redesign some
other aspects of the operating system, such as
Windows Media Player, Paint, and now Notepad.
Microsoft is working on a redesigned Notepad for Windows 11 and
the first preview of the app is now rolling out via the
Microsoft Store in the Dev Channel. Windows 11's Notepad
features updated drop-down menus which include three options –
File, Edit, and View. On the other hand, Windows 10's version
includes two additional options – Format and Help.
The File and Edit drop-down menus contain all the options
available in the existing Notepad. You can open a new window,
modify the page's setup, and more. Likewise, Edit drop down
menu includes various options like undo, cut, copy, paste and
more. Rounded corners, which are a design feature in Windows
11, are visible too.
Interestingly, Microsoft has moved the format and help
options into a new settings page.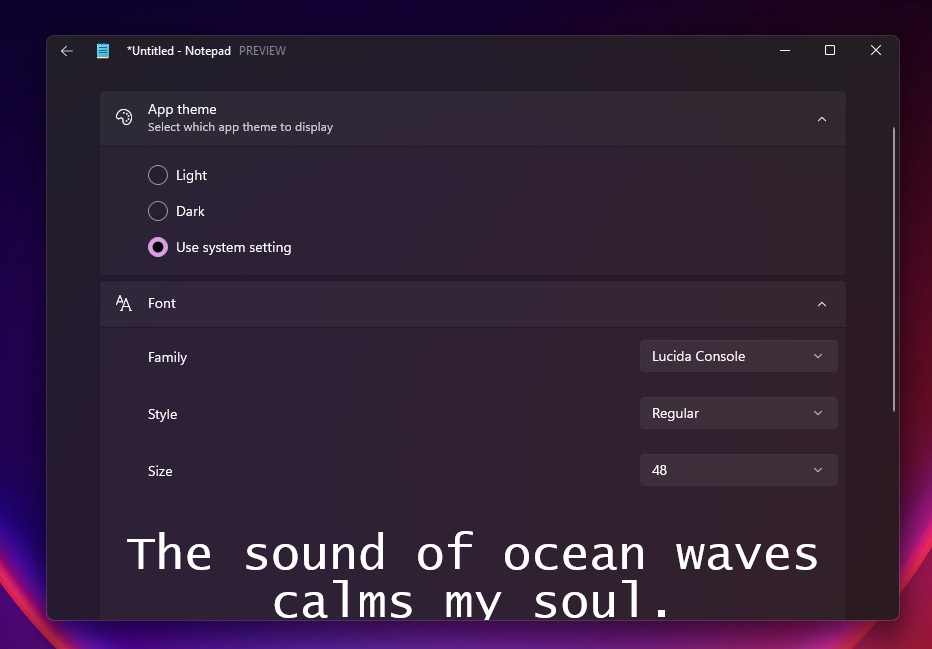 This new Notepad app comes with a few new settings as well. For
example, you can visit the settings page to change the file
editing experience by selecting a different font size and font
style from the dropdown menu.
Microsoft has also added a dark or light mode toggle to
Notepad.
Microsoft has made improvements to text rendering to
better support dark and next generation fonts. At the moment,
it is not possible to return back to the classic Notepad
experience.
That said, it is important to understand Notepad for Windows 11
is still under development and there are bugs. Microsoft could
be internally working on new features for Notepad, but it's not
yet if and when new features will begin shipping to consumers.